What is ClinicalTrials.gov?
ClinicalTrials.gov is a resource that provides access to information on clinical trials studying a wide range of diseases, conditions and interventions. Studies listed in the database are conducted in all 50 States and worldwide. Each ClinicalTrials.gov record includes summary information about studies.
EQUIP TIP: The clinicaltrials.gov record may be released for PRS review 
AFTER IRB submission.
Registration may be required if one (or more) of the following is true:
START HERE - How To Register and Update Your Study
NEW! - ClinicalTrials.gov OFFICE HOURS Fridays 11am-12pm
Checklist To Address Common Errors
Important Definitions of Required Elements
OHRP Guidance - Posting the Consent Form
Registration Requirements
Adapted from: Clinicaltrials.gov enforcement: an update. Anthony Keyes. January 18, 2022
Registration & Submission
In 2015: 19,170 clinical trials were registered. 7,400 were applicable clinical trials, the remainder 11,770 trials, can be considered voluntary or to not fall under the rule. Of these, 526 were NIH funded. This leaves an estimated 11,244 trials that do not fall under either the rule or the NIH policy!
DHHS expects that these voluntary registrations will:
submit the same clinical trial registration information as applicable clinical trials.
expects that required elements of the record are updated as frequently as information for applicable clinical trials.
Estimated annual burden of 269,856 hours (almost 90,000 hours initial registration, rest from updates)
Voluntary registration places a burden on the responsible party  to comply with all registration and update requirements. Any ongoing non-compliance with these requirements on the part of the responsible party.
Source: Final Rule 42 CFR Part 11: https://www.govinfo.gov/content/pkg/FR-2016-09-21/pdf/2016-22129.pdf
The "Responsible Party" refers to the entity or individual who is responsible for registering a trial on ClinicalTrials.gov.
The Responsible Party is responsible for the initial release of the record, all future updates and ensuring the trial registration stays accurate and up-to-date.

For studies registered by UCI, the PI serves as the responsible party if they meet all the following criteria:
They are responsible for conducting the clinical trial.
They have access to and control over the data
They have the right to publish the results of the trial
They can meet all the requirements for the submission of clinical trial information.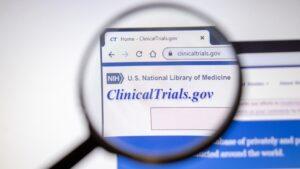 A ClinicalTrials.gov staff member will review the study record after it is submitted and before it is published on ClinicalTrials.gov.
The review process may take up to a few days. Ensuring that the record is consistent with the ClinicalTrials.gov Protocol Review Criteria (PDF) before releasing it will expedite publication on the site.
After it is accepted by review staff for publication, the record, including its NCT Number, will be available on ClinicalTrials.gov within 2–5 business days.
Record Verification Date: Clinical trial registration information must be updated not less than once every 12 months.
The following elements must be updated 30 days after a change:

Human Subjects Protection Review Board Status
Overall Recruitment Status1.
Primary Completion Date
Study Completion Date
Responsible Party Contact Information or contact information
Intervention Name(s)
Individual Site Status
The Food and Drug Administration Amendments Act (FDAAA), National Institutes of Health (NIH) require the publication of results for certain studies on ClinicalTrials.gov (Ct.gov).
The ICMJE Policy recommends results publication but it is not required.
After a clinical trial has been registered on ClinicalTrials.gov and the study is completed, the Responsible Party must publish the results on ClinicalTrials.gov.
Submission of results information is required no later than 12 months after the Primary Completion Date (the last subject last visit) of the clinical trial, which is defined as the date of final data collection for the primary outcome measure.
---
1 - If Overall Recruitment Status is changed to "suspended," "terminated," or "withdrawn," the Why Study Stopped data element must be submitted at the time the update is made.
If needed submit an Amendment for the following
For studies that meet the criteria for clinical trials per NIH Definition and Applicable Clinical Trials, ensure the ClinicalTrials.gov statement is included in the Consent Form / Study Information Sheet
Under "Type of Research" – "yes" to Does this research meet the definition of a clinical trial that requires adherence to Clinicaltrials.gov?
Once obtained, NCT# is added to this section
Recruitment section reflects ClinicalTrials.gov as a recruitment method.
Effective January 21, 2019. Important considerations regarding the uploading of the informed consent form:
Why Do I Need to Register My Trial and Submit Results to ClinicalTrials.gov?
Clinicaltrials.gov Educational Webinars / Tutorials:
** NOTE: At UCI the Principal Investigator / Lead Researcher is always listed as the Responsible Party on their Clinicaltrials.gov record **